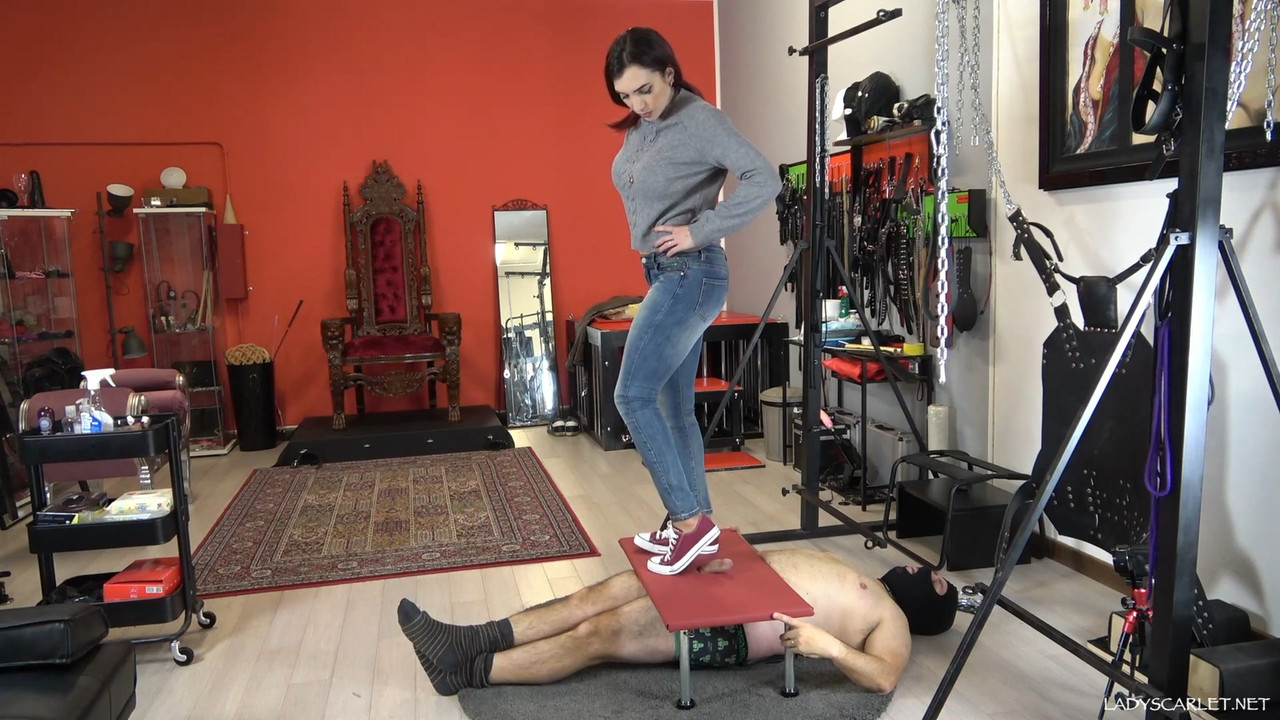 Description:
ITALIAN LANGUAGE

Today casual wear, sweater, jeans and converse: even my slave waiting for me with his little dick outside is surprised not to see heels. But I will not be less sadistic nor less mean, especially with that earthworm that he has instead of the cock and that I want to eliminate. I get on the table, this worm appears from the hole in the center and I start crushing it and kicking it mercilessly: with each blow the screams of pain become more intense. I don't want to ruin my new shoes too much and so I order him to take off my shoes. With pleasant surprise the slave finds himself admiring my feet veiled by the nylon of tan pantyhose: it is a little joy in an afternoon of pain as I continue barefoot to trample and destroy it. In the end I take the shoes with my hands and hit his dick as if I wanted to crush an insect and before leaving I leave the shoes to cover that worm that I don't want to see anymore.

CAZZO SCHIACCIATO IN ABBIGLIAMENTO CASUAL

Oggi abbigliamento casual, maglione, jeans e converse: anche il mio schiavo che mi aspetta col suo cazzetto moscio di fuori è sorpreso di non vedere tacchi. Ma non per questo sarò meno sadica e spietata soprattutto con quel lombrico che ha al posto del cazzo e che voglio distruggere. Salgo sul tavolino, dal buco al centro spunta questo verme e inizio a schiacciarlo e calciarlo senza pietà: a ogni colpo le urla di dolore si fanno più intense. Non voglio rovinare troppo le mie scarpe nuove e così gli ordino di sfilare le converse. Con piacevole sorpresa lo schiavo si ritrova ad ammirare i miei piedi velati dal nylon di collant color carne: è una piccola gioia in un pomeriggio di dolore perchè scalza continuo a calpestare e distruggergli il cazzo. Alla fine prendo le scarpe con le mani e lo colpisco come se volessi schiacciare un insetto e prima di andarmene lascio le scarpe a coprire quel verme che non voglio neanche più vederlo.

Category: TRAMPLING
Related Categories: CBT, CRUSH, STOMPING, SNEAKER FETISH, FEMALE SUPREMACY.
Keywords: lady scarlet, crushed dick, stomping, dick destruction, stand on cock, cbt, sneakers, converse, trampling, female supremacy, schiacciare palle, calpestare, cazzo moscio, scarpe da ginnastica, cazzo schiacciato.

Published date: 2/15/2022
Starring: Lady Scarlet
femdom-blog.cc-01383.mp4
File Size : 512.17 MB
Resolution : 1920×1080
Duration : 00:08:44
Video : H264 (Baseline) :: 8024 kb/s, 50.00 fps
Audio : AAC (LC) :: 160 kbps, 44100 Hz, 2 channels :: Und