MISTRESS ANNA ELITE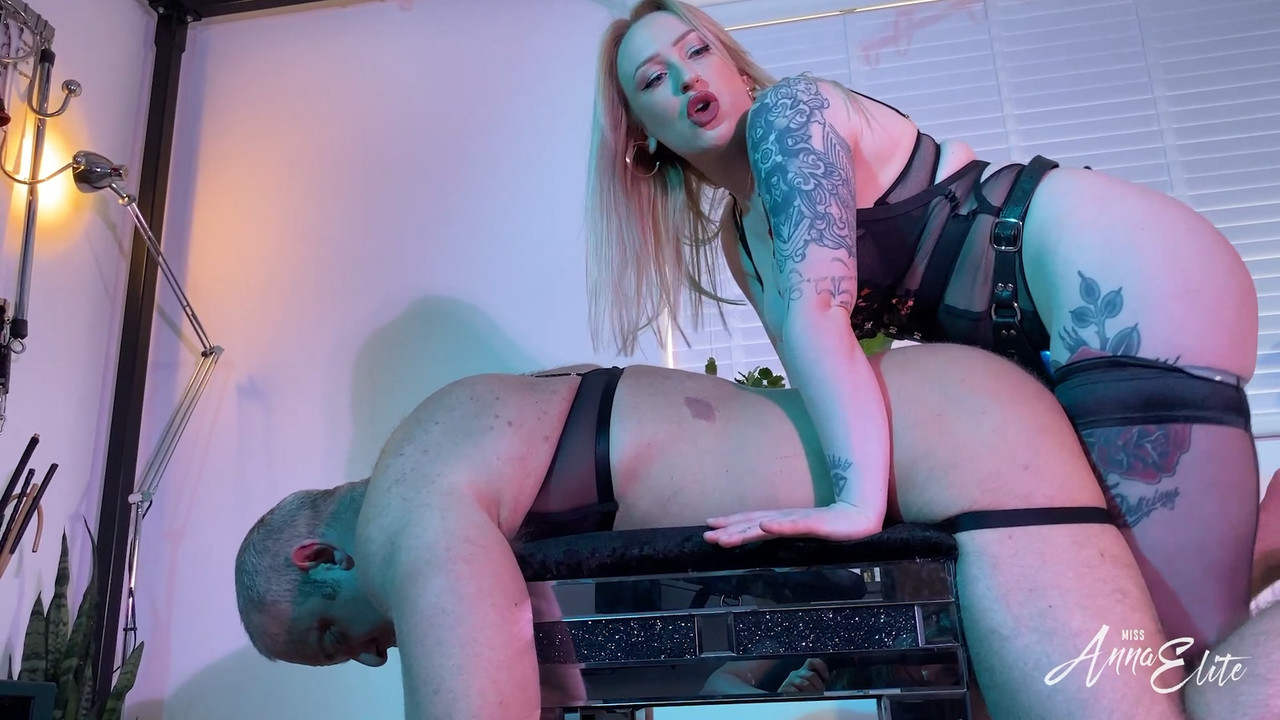 Description:
I have asked my loser boyfriend, T, to meet me at a stunning hotel room for what he thinks will be a hot night of passion, little does he know that he will in fact be meeting me at a fetish playroom to be well and truly put in his place.

T arrives, initially shocked and confused by his surroundings, he then notices the big purple strap-on dildo that I am wearing with my lingerie and stockings; it is all beginning to fall into place. Desperately, he tries to convince to me to leave however I have other ideas…

I drag the pathetic male to his knees by his ear, I cruelly verbally humiliate him about his tiny, useless cock that brings me absolutely no pleasure however I am not done yet. T has a secret that he thinks he has successfully hidden from me for some time now, it will be incredibly humiliating for him to find out that I have known not about his enjoyment of sissy porn all along and have been deciding on a suitably satisfying way to call him out on it.

Finding out that I know all about desire to be feminised isn't the only surprise coming to my pathetic boyfriend this evening, I also take great pleasure in breaking it to him that I have been sleeping with real men the whole time… T's pin dick couldn't satisfy anyone, and it is about time that he learned his place in this relationship; as my feminised, cuckolded, strap-on fuck toy!

Our evening is only just beginning however I do not want T to enjoy a moment of it. I make him strip from his clothes and fit a tiny pink chastity cage over his pin dick, I want it locked up and denied of all pleasure before I have him slip into something decidedly sluttier… A pink and black leopard print bra, panties, and a suspender belt, what a fabulous whimpering bitch he makes!

A brutal verbal humiliation onslaught commences as I get T ready to take my strap-on cock, I want him to feel pathetic and entirely unworthy before I own his little hole as mine and our relationship changes forever. Only when he is almost in tears do I finally make him bend over the stool and penetrate him for the very first time.

Clearly a natural stut, T has been fantasising about this moment for years however the reality is very different; his hole is stretched painfully wide as my strap-on dildo relentlessly pounds away, no let up, he will take whatever I decide to give him.

I take great pleasure in thrusting away, cruelly humiliating him as I do. I won't be staying with this loser tonight, instead I intend on making him pay for a luxury hotel for my lover and I whilst he sleeps on the fetish dungeon floor feeling thoroughly used….

Category: FEMINIZATION
Related Categories: STRAP-ON, FEMALE DOMINATION, CUCKOLDING, SISSY TRAINING, PEGGING.
Keywords: miss anna elite, blonde, lingerie, cuckold, feminised, humiliation, scolding, chastity, pegged, loser boyfriend, sph, verbal humiliation, cruel girlfriend, sissy boyfriend, sissification.

Published date: 2/11/2022
Starring: Anna Elite
femdom-blog.cc-01220.mp4
File Size : 1413.66 MB
Resolution : 1920×1080
Duration : 00:19:09
Video : H264 (Main) :: 9988 kb/s, 59.94 fps
Audio : AAC (LC) :: 317 kbps, 48000 Hz, 2 channels :: Eng