MISTRESS NIKKI WHIPLASH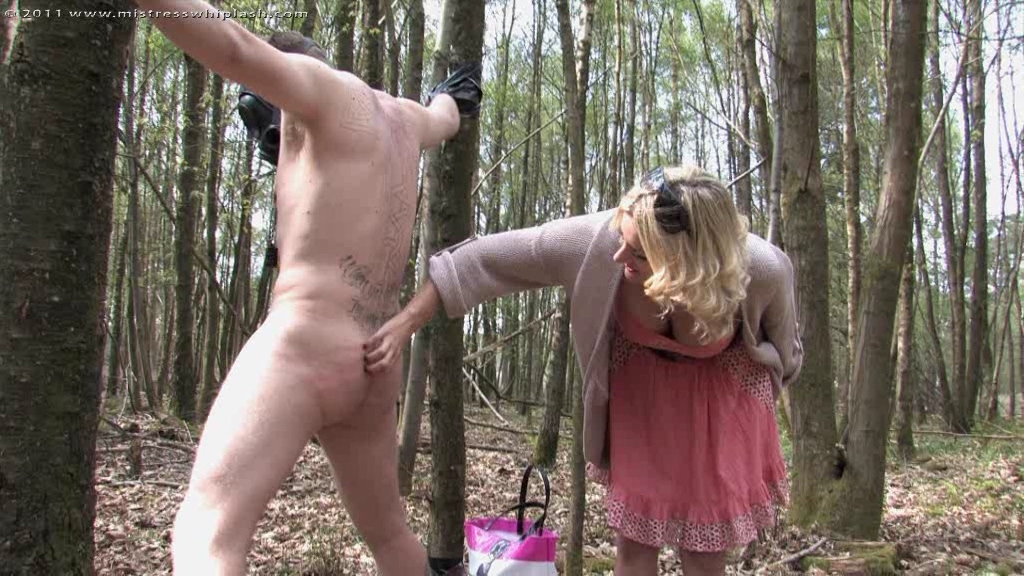 Description:
Poor old Slave Red has been left duct taped between two trees in the forest for the night with only some weighted nipple clamps and a respirator for company. I return the following morning to check on his welfare and decide that he needs to suffer some more, so I cut him out of his clothes then set about his naked, exposed body. He's ballbusted hard, cock whipped and whipped hard on the ass with my single tail, then has his cock and balls covered with pegs. As if this isn't enough for the poor slave to take, I then fuck his ass hard with a truncheon-style dildo. But even then I'm just not satisfied, so I give him a quick fisting before covering him with jam and leaving him for the local fauna to devour. He's just lucky I removed the nipple clamps and pegs before I abandoned him in the forest! (Duration 32m20s) You can follow Slave Red's antics on Twitter – @slavered

Published Tuesday 15th of November 2011
Keywords: ballbusting, anal, fisting, smothering, nikki, spanking & cp, skirts and dresses, humiliating, summer, nipple torture, domestic, outdoors, woman next door,
barefoot.

Starring: Mistress Nikki & Slave Red
Technical data:
mistress-whiplash-femdom-blog.cc-0099.wmv
File Size : 737.68 MB
Resolution : 1024×576
Duration : 00:32:20
Video : WMV3 (Main) :: 3000 kb/s, 25.00 fps
Audio : WMAV2 :: 192 kbps, 44100 Hz, 2 channels