Download MVC – DOUBLE DESTRUCTION OF YOUR COCK from TezFiles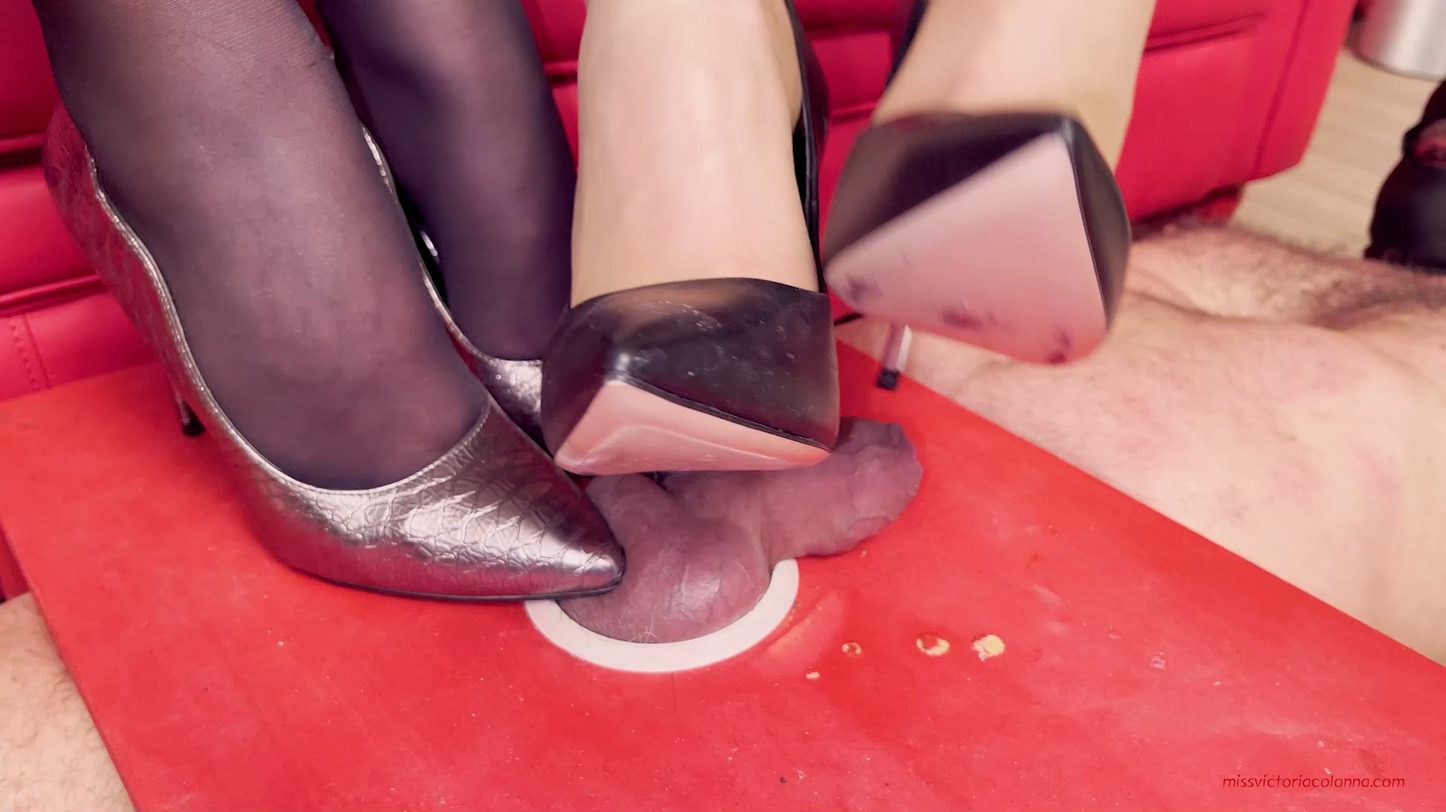 Description:
You will see 11 minutes of cock and balls torment of our piece of flesh to make him understand that he is no longer a man but only an object to trample for our sadistic pleasure. My friend Mistress and I closed the genitals in the cock box and start having fun by massacring them with our sharp heels. The jerk cannot move can only moan and this does nothing but increase our sadistic excitement… First I would destroy his cock and the balls as my friend infers with her heels sticking them on the rest of the body then We exchange place so my friend could torment his family jewels while I trampled him violently. The doormat screams and we decide that the time has arrived to destroy his genitals crushing them together without pity. We are not yet satisfied and we decide to continue our c&b destruction work sitting on the sofa with him lying like a human carpet while we inflict pain on him. After this sadistic treatment the jerk can no longer use cock and balls except to clean up our dirty soles and today he understood that his cock serves only and exclusively to be trampled by our heels and that our slave will not be able jerk off for a long time.

Vedrete 11 minuti di massacro del cazzo e delle palle del Nostro pezzo di carne per fargli capire che non è più un uomo ma solo un oggetto da calpestare per il nostro sadico piacere. Io e la mia amica Mistress gli abbiamo chiuso i genitali nella cock box e iniziamo a divertirci massacrandoli con i nostri tacchi affilati. Il coglione Non può muoversi può solo gemere e questo non fa altro che accrescere la nostra sadica eccitazione e inferiamo ancora più profondamente… prima io gli distruggo il cazzo e le palle mentre la mia amica infierisce con i tacchi conficcandoli sul resto del corpo poi ci scambiamo di posto e inizia la mia amica a massacrargli il cazzo mentre io lo calpesto violentemente. Lo zerbino urla e decidiamo che è arrivato il momento di distruggere i suoi genitali schiacciandoli insieme senza pietà. Non siamo ancora soddisfatte e Decidiamo di continuare l'opera di distruzione del cazzo e delle palle del coglione sedute sul divano con lui disteso come un tappeto umano infierendo contemporaneamente sulla sua carne. Dopo questo sadico trattamento il coglione non potrà più usare cazzo e palle se non per farci ripulire le suole e oggi ha compreso che il suo cazzo serve solo ed esclusivamente per essere calpestato dai nostri tacchi e non potrà più segarsi per molto tempo.

Category: TRAMPLING
Related Categories: CBT, FEMALE DOMINATION, BALL STOMPING, DOUBLE DOMINATION, SHOE FETISH.
Keywords: cock trampling, designer shoes, pumps, extreme trampling, mistress victoria colonna, humiliation, tortura capezzoli, nipple play, cock box, ball squeezing.

Published date: 3/20/2021
Starring: Mistress Victoria Colonna
File Name : premium-femdom-blog.cc-00107.mp4
File Size : 716.01 MB
Resolution : 1920×1080
Duration : 00:11:46