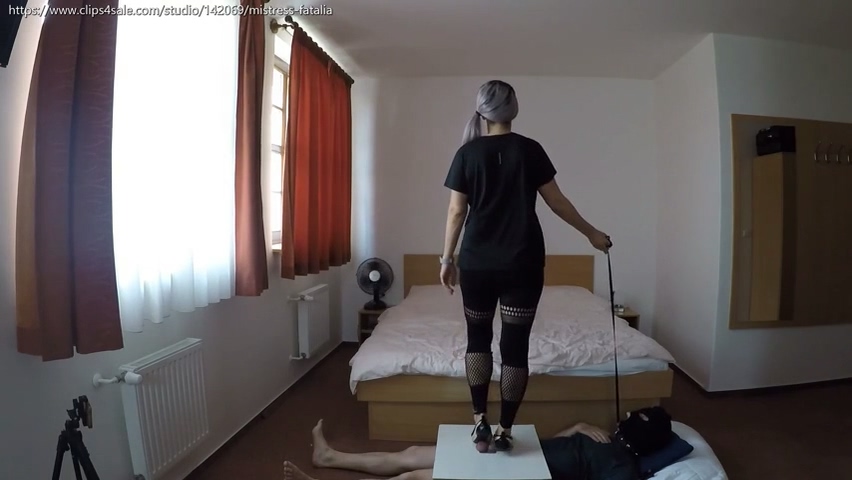 Description:
Everybody knows from my website and Twitter, who he belongs to. They see the branded initials DMF (D for Dominatrix, M for Mistress and F for Fatalia). I remind him of that in the very beginning. He is leashed, lying very obediently underneath the cockbox awaiting today's lesson. I am very spontaneous and I don't ever care about him. It is all about me, my current mood, my enthusiasm. What is never changing though is that it is always about his pain. I ask him to tell me what was happening. He says "my cock is shaking from the pain from the inside"… I tell him it is BS and that it cannot be shaking when it is splattered underneath my dirty flats, haha… and this is how today's session goes. Join me while I keep him on a tight leash!

Category: CBT
Related Categories: HUMILIATION, FOOT DOMINATION, BALLBUSTING, TRAMPLING, SUBMISSIVE / SLAVE TRAINING.
Keywords: mistress fatalia, cockboard, cock box, dirty flats, flats, ballet flats, stomping, stomp with flats, flattened cock, dominatrix and slave, submissive male, submissive male lesson, dominatrix lesson, dominatrix session, ballerina flats.

Published date: 10/21/2020
femdom-blog.cc-01265.mp4
File Size : 229.32 MB
Resolution : 854×480
Duration : 00:12:03
Video : H264 (Main) :: 2522 kb/s, 30.00 fps
Audio : AAC (LC) :: 131 kbps, 48000 Hz, 2 channels :: Und